The following article appeared originally in German on the website of the review Wildcat (Pelosis Trip nach Taiwan und die neue Intel-Fabrik in Magdeburg). Despite its ecological angle, the article gives many facts that are useful for understanding the present restructuring of the international division of production and trade into fully fledged war economies of the American bloc and the Chinese-Russian imperialist bloc in construction. Chips are essential parts of all kinds of weapons.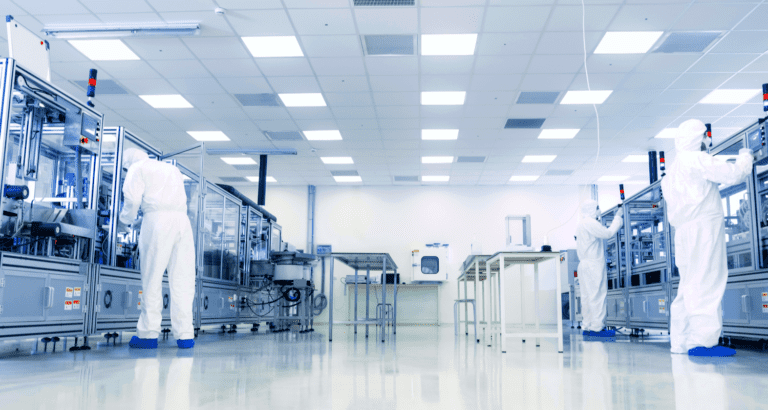 In early August, Biden signed the Chips and Science Act, which provides $52.7 billion in direct subsidies for chip production in the United States. A few days later, the U.S. government put four more "critical technologies" on a list banning their export to China. This is hurting Dutch, Taiwanese, South Korean and German companies in particular. Despite sanctions in recent years, Chinese chip manufacturing (SMIC) is now roughly on par with U.S. (Intel). Ahead of both are South Korea (Samsung) and especially Taiwan (TSMC). The U.S. still accounts for about 15 percent of global chip production, the EU 10 – the rest is made in Asia.
Shortly before Pelosi's Taiwan visit, Biden signed a strategic partnership with Japan in late July to catch up with that lead; the piquant thing is that South Korea and Taiwan are needed at the moment, but thought to be unsafe cantonists in the medium term. Shortly after Pelosi's Taiwan trip, South Korea's foreign minister flew to China to pour water on the fire; by 2021, South Korea had exported 48 percent of its chip production to China.
The semiconductor industry has realized its profits primarily through massive globalization – and has therefore resisted the (geo)political restrictions imposed by the U.S. with business arguments. Since the beginning of the year, Intel has been pushing ahead in the "turn of the times"; its CEO Gelsinger talks about "wresting production control from Asia" and sees the Ukraine war as "strengthening" their fab project in Magdeburg (Intel wants to build the largest chip factory in Europe there).
"Encouragement" has actually come from subsidies in the U.S. and the EU. Gelsinger: "Let's take advantage of the crisis. That's good economics plus national security!"
The [German] "Federal Agency for Leap Innovations" (SPRIND) also argues that as "semiconductors and high-tech components become weapons," we must "invest in high-tech to become resilient." The question, however, is: who should become "resilient"? and against whom? The Biden administration wants to coordinate semiconductor strategies in the "U.S.-EU Trade and Technology Council" established in June 2021. The EU would rather have an independent subsidy policy that ensures ("in case of emergency") recourse to key technologies. The pandemic experience is still fresh, when (despite – or because of? – Biontech-Pfizer) the U.S. and U.K. had faster access to vaccines. Now that the Ukraine war has all but cut off trade between the FRG and Russia, the next round is all about whether the FRG will (or can) equally decouple from China?
This geopolitical development is crisis-driven and exacerbates the ecological crisis
Intel is up to its neck in water; the progress of the semiconductor industry seems to be exhausted; the crisis dynamics accelerate.
The resource hunger of the semiconductor industry can no longer be served by this planet. Intel's factory in Magdeburg (450 hectares of sealed surface on Germany's most fertile soils) will need up to 45 million liters of drinking water per day – and still helps the corporation "green wash" because 60 percent of the electricity it needs in Saxony-Anhalt comes from renewable sources. In fact, the chip industry has "entered an era of inefficiency." The production of the new generation of chips will consume even more energy and emit greenhouse gases than before. Power consumption to train so-called "artificial intelligences" has grown exponentially; by 2025, machines will generate more data than humans do. If it continues, the semiconductor industry will require 20 percent of global energy in 2030.
But the biggest problem (especially in Europe and the U.S.) is the lack of workers. In 1977, 64000 people worldwide worked in chip manufacturing. In 1980, a factory employed an average of 1000 people; today it employs 10000. Worldwide, there are 153 factories that can process 300mm wafers. By 2026, this number is expected to rise to over 200. But who will work in all these chip factories? Already there is a shortage of workers everywhere. There is fierce competition for the global migration of new tech guest workers; people are trying to score points through higher wages and poaching, but that ultimately doesn't change the global labor shortage, which geopolitical strategies are exacerbating. (Moreover, "geopolitics" leads to a factory for computer and SmartPhone chips being built in Magdeburg, for example – while Germany and Europe lack chips for the car industry and mechanical engineering).
For the further growth of the chip industry, one would have to put almost all available resources – energy – water – manpower into this industry. But someone still has to bake bread and make cheese!
We talk about these connections in detail in the article "Summer of Semis" in the new issue [of Wildcat, printed only]. We also recommend the article in Wildcat 108 on the chip crisis.